Wells Fargo Build 2023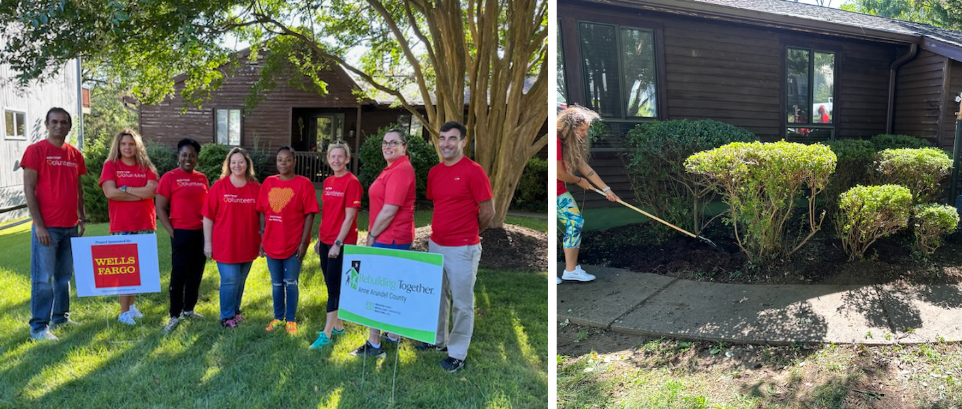 On September 15, Rebuilding Together Anne Arundel County, in collaboration with the generous sponsorship of Wells Fargo through its Wells Fargo BuildsSM program, successfully completed a transformative home improvement project. The scope of work was comprehensive, addressing various aspects to enhance the safety, functionality, and aesthetic appeal of a local residence. The dedicated team of Wells Fargo volunteers conducted extensive yard maintenance that resulted in increased accessibility to the front porch and entrance, eradicating animal access to the home and more visibility to the street for the homeowner. Installation of a ceiling fan improved air circulation and replacement of exterior light fixtures improved visibility and safety. Volunteers also cleared up the garage space by removing unwanted items. Skilled subcontractors were enlisted to complete repairs and painting of the damaged exterior siding.
This impactful project was made possible through Wells Fargo's ongoing commitment to community development. The Wells Fargo BuildsSM program has been a cornerstone of philanthropy, providing crucial financial support for the construction, renovation, or repair of homes for low-to-moderate income households. Since 2010, Wells Fargo has donated over $18 million to Rebuilding Together and its affiliate network. This substantial support has played a vital role in nationwide rebuilding efforts, extending beyond essential home repairs to revitalizing communities and assisting various demographics, including veterans, older adults, people with disabilities, families with children, and victims of disasters, in maintaining their homes and dignity. The successful completion of the September 15 project is a testament to the transformative impact that corporate partnerships like Wells Fargo and Rebuilding Together can have on the lives of those in need.